PVD Brass 5" Heavy Duty Latch
Product Code: 90132
Product Photos & Drawings
Product Videos
Fitting Guide - Mortice Latch & Lever Handle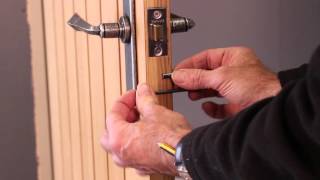 Dimensions
Forend Size: 60mm (L) x 25mm (w)
Strike plate: 65mm (L) x 25mm (W)
Tube Size: 24mm (H) x 15mm (T)
Backset: 106mm
A heavy duty tubular mortice latch for use with any of our knob sets or unsprung lever handles.
Includes an extra strong spring to ensure our weighty knob sets and levers always return correctly.
Will match any of our aged brass or polished brass products.
We recommend using a 2.5" or 3" latch with our lever handles, and a 3", 4" or 5" latch with our knob sets.
An ideal latch for internal doors and also suitable for 30/60 minute fire doors.
Supplied with matching SS wood screws.
Be Inspired
Not sure where to start? Wondering how our products will look in your home? We have many ways for you to be inspired and it's a great place to search by product, style or finish to get the inspiration you are looking for.
Inspiration By Latches
Product Type
Inspiration By Heavy Duty Latch
Range
Inspiration By PVD Brass
Finish