Black Door Hanging Set for Sliding Door Kit
Product Code: 91907
Product Photos & Drawings
Product Videos
Black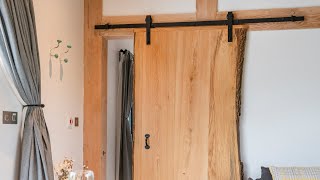 Dimensions
Min. Door Width: 500mm
Max. Door Width: 1000mm
Door Thickness Range: 36mm-46mm
Max. Door Weight: 80kg
This set is used in addition to the sliding door hardware kit and allows the hanging of a second door on an existing track.
Sliding door hardware is ideal for barn conversions, period properties or simply a unique feature in the home.
Suitable for internal doors weighing up to 80kg, the traditional look for sliding wooden doors with the exposed steel straps fastening down the front of the door to support the rustic finish.
The beautifully crafted barn door style hangers run smoothly across the flat bar track.
The structure of the wall must be able to take the weight of the system and door combined.
Supplied with all necessary fixings.
Be Inspired
Not sure where to start? Wondering how our products will look in your home? We have many ways for you to be inspired and it's a great place to search by product, style or finish to get the inspiration you are looking for.
Inspiration By Sliding Door Hardware
Product Type
Inspiration By Additional Door Kit
Range
Inspiration By Black
Finish